Eating Energy Instead of Food: Cultivating Pranic Nourishment Retreat
Date/Time
Date(s) - June 27 - June 30
7:30 PM - 12:30 PM
Location
Song of the Morning Yoga Retreat
Categories
A true Breatharian is visiting Michigan!  And you can spend the weekend with him.
There are only a handful of true Breatharians (someone who meditates instead of eating) in the world. One of them, Elitom El-Amin, will be in Michigan for four days offering an introductory talk and weekend retreat about his journey to connect energetically so fully to Spirit that he no longer needs to eat or drink.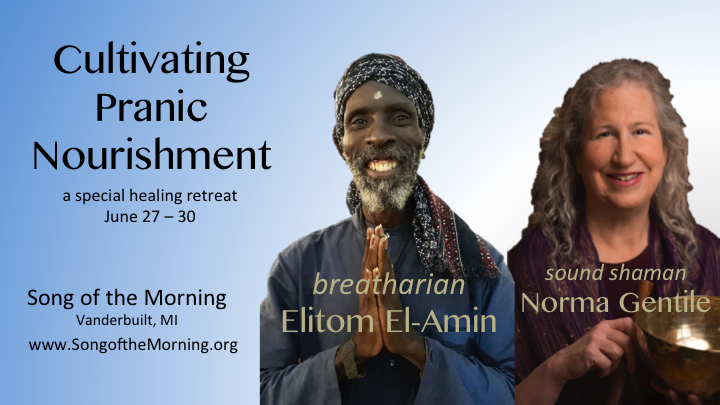 Elitom is able to share his process so that those present may begin to sense similar connections awaken within their bodies. These connections are initially used for healing and rejuvenating the physical body.
Elitom is joined by Sound Shaman Norma Gentile, whose training allows her to magnify the energies that Elitom is nourished by, so that all those present can sense how their own bodies want to connect to these same energies.
Thursday – Sunday, June 27-30
Retreat with Elitom and Norma
In-depth information and experiences in Nature with the Spiritual Energies that rejuvenate and nourish our physical bodies. In order to have adequate access to Nature energies the retreat is being held at Song of the Morning in Vanderbilt, MI.
Can't make the weekend retreat?  Check out this talk:
Wednesday, June 16  7:30-9:30pm
Introduction to Breatharianism: A talk by Eiltom
Kasha Nivas Meditation Ashram in ANN ARBOR
Suggested Donation at door: $20, no one turned away
General Retreat Info:  http://www.healingchants.com/2019_06_Prana.html