Retreat: 2019 Fall Oakwood Silent Vipassana Meditation Retreat
Date/Time
Date(s) - October 6 - October 13
All Day Event
Location
Oakwood Retreat Center
Categories
Deep Spring Center
2019 Fall Silent Meditation Retreat
Vipassana and the Awakened Heart
A silent meditation retreat with Barbara Brodsky, John Orr and Aaron*
OCTOBER 6 – OCTOBER 13, 2019 (SUNDAY TO SUNDAY)
OUR RETREAT HAS THREE INTER-WOVEN THEMES: VIPASSANA MEDITATION, PRACTICE WITH THE NON-DUALITY OF RELATIVE AND ULTIMATE EXPERIENCE, AND LIVING FROM THE OPEN HEART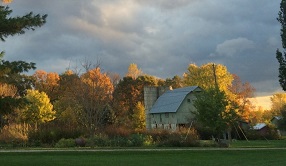 Where: Oakwood Retreat Center, Selma, Indiana
Teachers: Barbara Brodsky, John Orr, Aaron and The Mother*
Level:  All levels
Cost:
  Shared Room: $875
 Private Room: $1,260
(July 22, 2019, only a few spots left for this retreat)
(includes 7 nights and 21 meals – the fee covers actual retreat costs for room and meals; private rooms have limited availability).
Registration deadline:
Friday, September 27, 2019
After Friday, August 23, 2019 full payment is due at registration.
DESCRIPTION:
In the chaos of our lives, there is a place of stillness, love and ease in each of us. How do we find that core and live from it? In this week we'll come together in silence to practice vipassana (mindfulness) and pure awareness meditation and explore living in the spaciousness of the awakened heart that is our true being. There will be meditation instruction, dharma talks from the teachers including Aaron, channeled by Barbara, silent sitting and walking meditation, and opportunity to share in the radiant love of the Divine through optional Darshan with the Mother**, channeled by Barbara.
More information: https://www.deepspring.org/oakwood-fall-retreat-oct2019/